LSF Paciran - Lamongan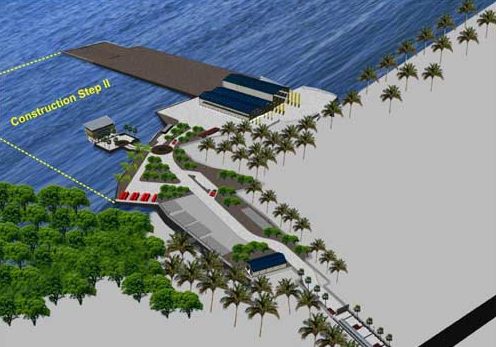 PT. LINTECH DUTA PRATAMA fabrication facility consists of 65.659sqm of land with 7meters water front complete with 1500tons loading/unloading jetties and 6892sqm covered workshop. The yard area is approximately 16.2acres located on the Paciran Beach, East Java, 80 Km West from Surabaya.
The LDP fabrication yard facility to provide full range of fabrication and erection services to the Industrial Plant Companies. Yard had modern facilities and capabilities for fabricate Offshore Platforms, Jacket, Steel structure, Process Equipments and Modularized Process Plants required by Oil and Gas and Petrochemicals Industries, Material Handling Equipment, Boilers and other industrial equipment.
TECHNICAL DATA :
The Coordinat LSF Paciran
S 06° - 51,772'
E 112° - 19,959'
WAREHOUSE AREA = 1800 m²
2 Units (Warehouse 1 & 2) : 20 m x 40 m
Storage bulk material of piping, mechanical fabrication & be divided as per materials types.
1 Unit (Warehouse 3) : 10 m x 20 m
Main storage material bulk of electrical & Instruments
WORKING TABLE (Optional) = 450m2
1 Units : 15m x 30m
Assembly of deck sections and pre-fabrications of beams, branches.
SANDBLASTING & PAINTING AREA = 1750m²
1 Painting area : 20 m x 20 m
1 Sandblasting area : 15 m x 50 m
1 Auto blasting chamber (if require) : 15 m x 20 m
1 TSA/coating chamber : 15 m x 20 m
Mainly used for shot blasting, sandblasting and priming, this area will be equipped:
- Air compressor
- Sandblasting equipment
- Shot blasting machines (if require)
OPEN STORAGE = 1495m²
1 Shape storage area : 34 m x 10 m
1 Pile Rack Storage : 10 m x 30 m
1 Plate storage area : 15 m x 50 m
As custom divide area, has a storage area for pipes, pipe rack pre-fabricated, finished
products storage, pressure vessel can fabricated and heat treatment.
1 Scaffolding storage area : 7 m x 15 m
REPAIR AND MAINTENANCE AREA = 450m²
1 Unit : 15 m x 30 m
This designed for repair and maintenance yard equipment facilities include, machine shop,
electrical shop, tire & body repair shop and offices, will be equipped:
- Units long bed lathe
- Unit vertical milling machine
- Unit extra large vertical drill press
SKIDWAYS SYSTEM
The skid ways are 0.6 m wide and 1.5 m deep (embedded), 20m spaced center to center and
200m terminating at the face of jetty, complete with electrical outlets for rectifier welding
machines, compressed air outlets
JETTY
The jetty used for load out offshore platform, jacket, modules, process equipment,
structures and most of the offloading and loading materials. Jetty bulkhead of 200m, water
depth of 7m, and the design for load out up to 3000 ton with single point up to 650tons.
POWER AREA
The power supply is 1000KWH from PLN source & yard main power produce from the
powerhouse with 20.000volts underground system, this power will distribute:
- 800KVA transformer to the main office, warehouse area & shop area.
- 1000KVA transformer to the jetty, covered workshop facility.
There are emergency generators for emergency with 50kva & 100kva capacity.
LIGHTING SYSTEM
Yard lighting consist:
- 2m High tower with 1000 watt halogen lamp ; 40each
- 2m High tower with 1500 watt halogen lamp ; 30 each
- 1.5m High, spot light 1000 watt lamp ; 3 each
- 1.5m High, spot light 1500 watt lamp ; 3 each
CONTAINER AREA (OPTIONAL)
For supporting yard facilities & spend area for client and sub-contractors.
- Container Storage
- Container Office
- Container Foreman
UTILITIES AREA
Area spends for utility yard as Musholla, toilet, security post.
OFFICE AREA = 560m2
Area consist main office LDP & client representative, construction & engineering dept., and
this area completed with 80m2 masjid, 70m2 canteen, 50m2 clinic, and parking area
Security System
LDP security is operated by a team of 20 security guards and one security chief and
allows for a 24 hours shift operation covering 10 check stations. The yard area (16.2
acres) is protected from public access by a security fence 3 m high and constructed of
steel pipes with plastic covered wire mesh. There are unfenced boundaries but these
are secured by sea font. Paint and oxy-acetylene bottles are separately housed in a
secure fences area within the yard @24 hours watch is maintained at the main gates
access to the yard. It is gained only after the security officer has obtained signed
authorization from management for each and every request to enter.
Camp Area
The Camp area has 10 (ten) prefabricated port camps and several rooms which can
house up to 100 single status personnel and provides cover for the amenities of
kitchen, laundry, mess hall, video lounge, canteen client, recreation rooms and 1 unit
tennis court.
Construction Engineering Department
Construction Engineering and Draftsman are available at LDP Fabrication yard for the
preparation of shop of drawings as well as the Surabaya Engineering Group for any
design work required.
This Department has the following equipment :
Drafting Machine
Personal Computer for AutoCAD
A4,A3 & A0 Printer & Plotter
Quality Control Department has a full range of equipment to conduct testing on
materials, welding, painting, electrical and instrument calibration.