Thiess Dolphin Shipment Preparation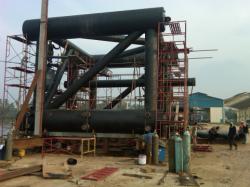 Lintech Seaside Facility (LSF) team hold the commitment to Thiess to deliver this 1st shipment from LSF (Paciran Cape Lamongan) to Indomet-Coal Port Infrastucture, a BHP - Adaro project at Muara Tuhup - Central Kalimantan, ontime on June 15, 2013.
Sea structures requires tight world standard quality control start from material selection, marking, cutting, welding specially, surface preparation and painting to the specification. The fabrication process also should plan the movement system for barge shipment with involve skidding and heavy lifting. Equipment, Tools, Facility, Procedures and certified personnel for the sea structures are available at LSF.
"The success on this project adding a proof to Lintech as a world class integrated EPFC for Oil and Gas, Mining and Industry. In addition, Lintech invites the industries to further utilize LSF and Lintech's engineers potensial, the world class service at competitive rates" said Mr. Nurul Kahir as Technical Director PT.Lintech Duta Pratama.
Source :