Delivery Process Air Pre Heater Project Howden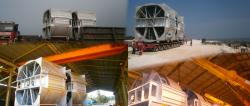 One Truck For Pick-Up 2 ea AIR HEATERS Come to Lintech Seaside Facility on 07 July 2014. To prepare for pick up ea Air Heater & Another Truck come with Ramdor. As per request Transporter Lintech follow and make low temporary packing support, to make easy to pickup with good position on truck.
For more information please download here .
Source :