SIBELCO PROJECT COMPLETION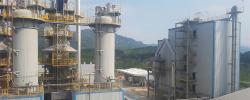 LIME PLANT PADALARANG - SIBELCO COMPLETION
Project Name: Lime Plant Padalarang - Sibelco
Capacity: 400 Ton/Day
Steel Fabrication and Erection: 5000 Ton
Electrical Power, Design, Supply, Install, Programming and Commissioning: 10 MWatt
Mechanical Equipment Installation: 2000 Ton
Commissioning Date:  27 December 2016
Again, Lintech has proven high safety and quality standard on our EPC project.
Lintech has achieved 1 million manhours without accident on 85% completing
lime plant project. 
Congratulation to Lintech for completing world class plant and Sibelco for the brand new quality asset.
Source : Lintech Duta Pratama