Natural Gas Tank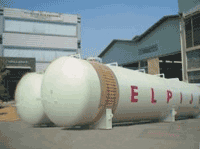 LINTECH design and fabrication of carbon steel and stainless steel pressure vessels and custom welding. Particular expertise lies in ASME code pressure vessel design. We will guide you through the design process in order to meet all stringent ASME Section VIII, Div. 1 requirements. To assist in the design phase, the following information are required :
Vessel orientation (horizontal or vertical)
Vessel size as well as any size envelope restrictions
Vessel material
Design pressure and temperature
Special requirements (i.e. wind/seismic exposure, lethal service, nozzle/manway requirements, post-weld heat treatment, surface coating, internals, etc.)
With this information, we can perform all necessary code calculations and generate computer-aided drawings for your approval. We utilize the latest AutoCAD programs available for all our drafting needs.