Lintech Cement Container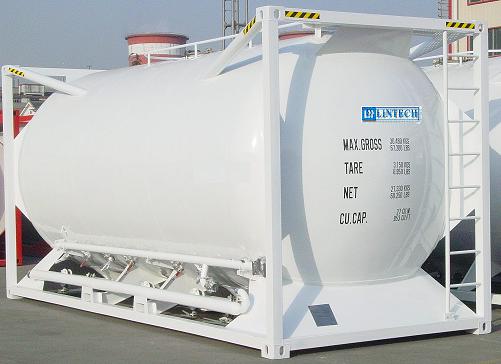 Once again Lintech has been develop and manufacture for new product, 20' Cement Container (ISO Tank). After leading in advance ASME Sect VIII products, we are always fast moving to give satisfaction services as Client requirements.
Our Cement Tank has capability to transfer approximate 27 meter cubics cement powder to your site with four discharges line. Around the frame 100x100x4 mild steel as an ISO standard dimension, Length 6,058 mm x Width 2,495 mm x Height 2.896 mm.
We also serve client request for others capacity according to standard dimension stated, such as 40' or specified dimension.
Specification and Dimension :
Dimension : Length x Width x Height = 6058 x 2495 2896 mm
Tank Volume : Approx 25 Cubic Meter
Tare Weight : Approx 3,800 Kg
Sheel Material : A36 or SS400
Dished Ends : A36 or SS400
Pipe Material : Carbon Steel
Discharging Line Size : Ø4" x 4
Discharging Valve : 4" Butterfly Valve
Air Line : Air Manifold Line = Ø3"x3; Sub Air Line = Ø2"x3

Air Hose : DN50 to fluidizer and boot line, DN38 between fluidizer
Fluidizer : SURE SEAL Aerator (optional)
Frame : A 100x100x4 mm steel frame surrounds the tank without fork pocket. The frame is fitted with twist lock castings at corners for top empty lifting. Double stacking only (one container above only)
Manhole : Three
Access Ladders : A vertical external steel ladder gives access to the top of the tank. No Internal ladder supplied.
Walkway : An expanded steel mesh platform provides to the tank top walkway from ladder. Toe rail along walkway to hatches.
Paint : Barrel painted inside with epoxy primer. All steelwork painted to client color