Engineering & Drafting Service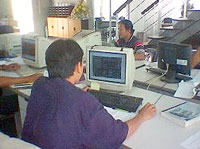 LINTECH's CAD Engineering & Drafting Service is supported by qualified and experienced professional engineers from any industrial fields such as mechanical,
piping, electrical, process and control system which are Engineering Works, Industrial
& Mining, Analyzing & Recommend, Process Design & Engineering, and Design &
Fabrication as their expertise.
Our engineering activity is utilizing the well-known software such as AutoCAD,
TEKLA, Bentley, SAP, X-Steel, Finite Element Method and drafting management system to provide best engineering service to our client. Start from general Arrangement
drawing up to shop drawing details. 2D, 3D and isometric are usual to LINTECH or vice versa, we detail shop drawing from user/customer given 3D file.
We provide detail services to cover: Steel Structure, Mechanical (conveyor, shiploader, Dryer, Fan, Ducting, Tank storage, Port Crane, etc).
Please Download our Brochure