Manpower Hire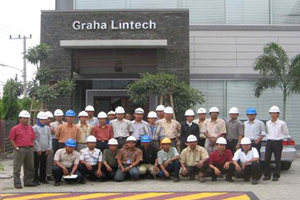 As a major established fabricator in central of Indonesia - located at Surabaya region - East Java, LINTECH services can reach all of the Indonesia region, Sumatra, Kalimantan, Sumbawa, up to Papua at the East side.
LINTECH have employed millions of man-hours inside our shop and on the field project execution.  With the accountability for safety and high skilled manpower recorded in our data base, Lintech have the reputation to supply Manpower for mining, construction and maintenance shutdown, offshore oil field work plus industrial construction.
Our employees are experienced, well supervised and certified to the international standards of welding as tested by Migas and the American Bureau of Shipping.  Techniques in SMAW, MIG, SAW and TIG methods are being constantly refined.
We have the crews to meet your specific needs. Rubber Worker, Ball mill/Sagmill liners, Welders, fitters, riggers, drivers, equipment operators, storemen, skilled helpers, scaffolders, electricians, machinists, supervisors, engineers, draftsmen, expatriates, quality control personnel, and HSE specialists.