Other Lintech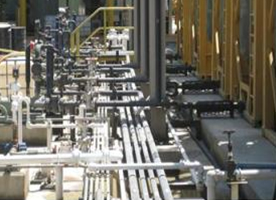 PIPING INSTALLATION
We have experienced in process (normal and explosion proof pipeline) and material (bulk, slurry, fuel, oil and gas) transfer pipeline installation, stainless and carbon steel pipeline material, high and low pressure. We are really know all aspects of welding, handling and install of pipelines.
MARINE TRANSPORT
Our new facilities is located at Paciran, East Java, 50 km west Surabaya. We do Loading and unloading in our facilities to optimize use of either our own or customer barge/LCT.
CIVIL CONSTRUCTION WORK
For a requirement on one stop shopping, Lintech has capability and experience in taking a complete package of plant construction, start from green field upt o civil construction and foundations, structural fabrication and erection, up to commissioning test and performance warranty.
CORROSION FIGHTING, WATERBLASTING, SANDBLASTING AND PAINTING
We do it in our facility or in our customer plants. We have the experience and capability to accommodate long contract and large structures.
LOAD TESTING & CERTIFICATION
As crane designer and manufacturer, we do crane service and maintenance, Load test, certified weights and cranage available.
PILING
Pipe and sheet pile installation for wharf application.